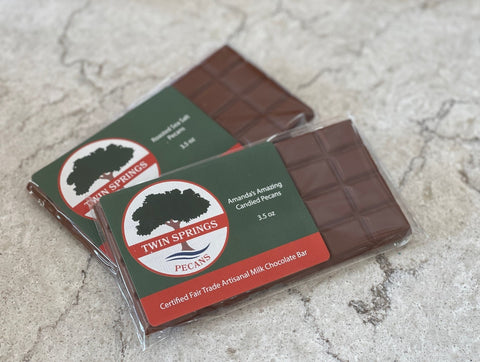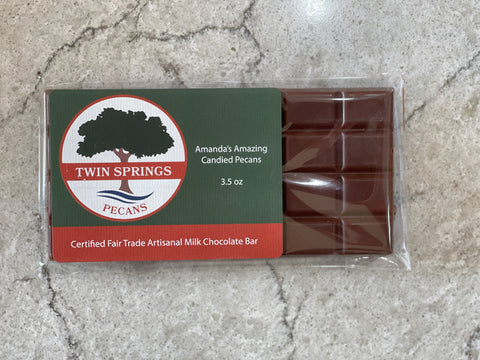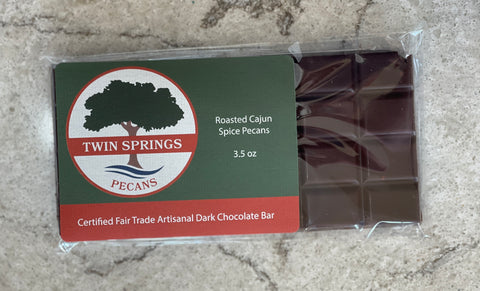 Twin Springs Pecans
Certified Fair Trade Artisanal Pecan Chocolate Bars
If you like our roasted and candied nuts, you will LOVE our Artisanal Chocolate Bars.  
If you like premium,  milk chocolate, you can order our Artisanal Chocolate Bars with either Amanda's Amazing Candied Pecans or Roasted Sea Salt Pecans.
If you are a premium dark chocolate fan, then you must try our dark chocolate and roasted cajun spice pecan bar.  Yeah, it's a thing!  
What's the difference between "premium" chocolate and most of the other stuff?  Other than taste, it is about all about certified free trade cocoa and cocoa butter, all natural ingredients, and small batches to ensure freshness.  Many chocolates contain wax (paraffin) as a filler and preservative, and lots of artificial flavors.  Fake vanilla, vegetable fats, artificial sweeteners and chocolate flavor are mainstays in commercial chocolate.  The difference can be tasted in both flavor and texture.  Chalky wax is not what our mouths prefer.  
Our bars are handmade for us by a local artisan chocolatier.  Our premier quality roasted and candied pecans are folded into premium certified fair trade and all natural chocolate. After trying many variations (yeah, that was tough work) we found what we believe to be the perfect ratio of our pecans to chocolate for the perfect chocolate experience.   
The milk chocolate is made with 38% Cocoa and other natural ingredients.  The dark chocolate is made with 61% Cocoa.  Using only fair trade certified cocoa beans and cocoa butter, cane sugar, full cream milk (milk chocolate only), sunflower lecithin (a natural emulsifier), and vanilla beans, our chocolate is everything it should be and nothing it shouldn't be.  Say no to wax and fake vanilla!  

SHIPPING NOTE:  We are committed to getting you our chocolate in ideal condition.  Because summer heat is our enemy in that quest, we will only be shipping our chocolate bars on Mondays or Tuesdays when destination temperatures are expected to be above 70 degrees Fahrenheit.  This is to prevent them from being stuck in a hot warehouse over the weekend.  We apologize for potentially delaying your chocolate fix, but we believe you will appreciate the difference our chocolate has over that grocery store stuff!  
IMPRESSED
Super tasty. Would get again and recommend.
Gave these as gifts so I haven't really had a report yet. Sorry
Wonderful treat!
These are awesome! The pecans are fresh, and the chocolate is smooth and tasty. I like both of the milk chocolate varieties, but prefer the one with roasted sea salt pecans. It is my new favorite candy bar!
Greatest Nuts ever!!
You guys have the freshest pecan in Nebraska! Keep them growing!
The Best!
Creamy chocolate with the best NE nuts—in just the right amount! So tasty!