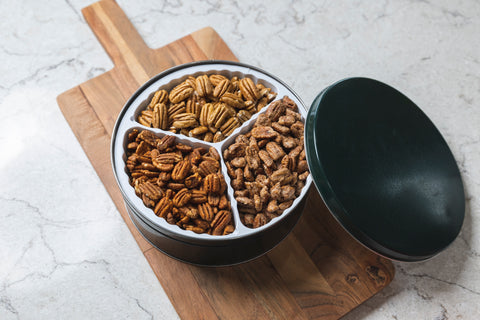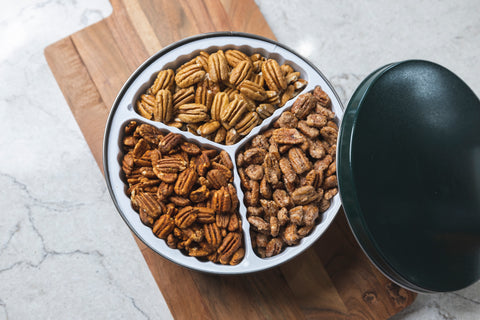 Twin Springs Pecans
Custom Gift Tin (1.5 Pound)
Who doesn't love a tin full of goodness on those special occassions?  Better yet, who doesn't love easy gifts to send?  We have you covered with our Custom Gift Tins.  You choose the size and your favorite pecans while we do all the work.  Our 1-pound tin comes with your choice of two pecan options while the 1.5-pound tin comes with your choice of three pecan options.  If you want more options--that's easy--buy another tin!  We love that.  From our home to yours, happy gifting!
CAUTION:  While we do our best to remove all of the shell, this is a natural product and it is normal for some shell remnants or pieces to remain.  Please inspect before consumption.  
Allergen Statement:  We only process pecans, so there is no risk of cross-nut contamination.  Please refer to the specific allergen statements of your pecan selections. 
They are super delicious, the Cajun is peppery, Salt and Black Pepper not very peppery but tasty, and of course the sweet ones are magical.
No review
These were purchased as gifts. I haven't tasted the nuts or even opened the tins so I can't review. Sorry.
Custom Tin
We are truly enjoying all the flavors.