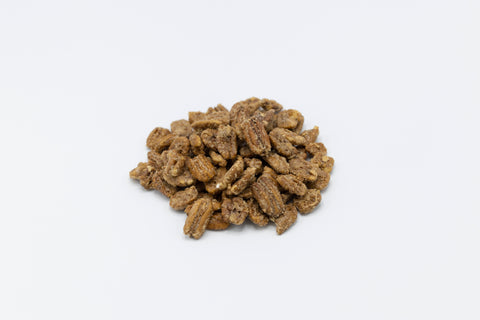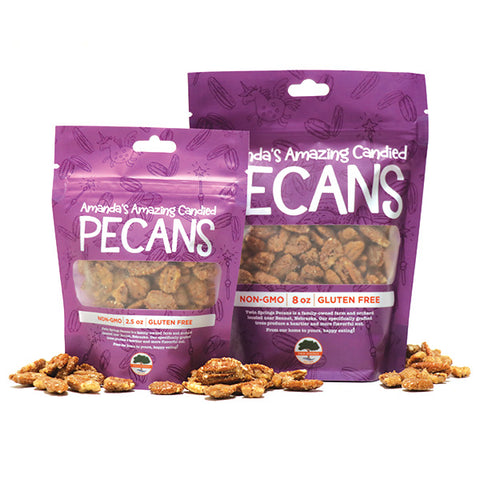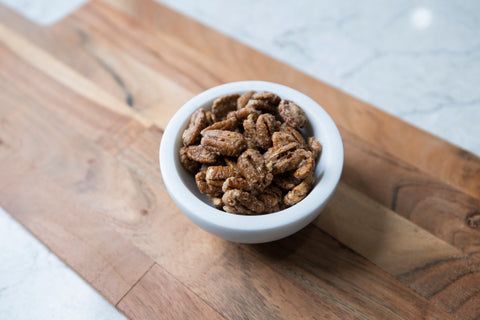 Twin Springs Pecans
Amanda's Amazing Candied Pecans
In tribute to our friend Amanda who was taken too young, we renamed the original recipe she developed for us.  These all natural, not-too-sweet but oh-so-decadent pecans are a customer favorite!  Okay, we like them too!  
Available in 8 oz or 2.5 oz sizes with resealable packaging.  The 2.5 oz size is our smaller size perfect for a quick snack, school lunches, or for quick energy on your bike ride or hike.  Whichever size you choose, buy plenty, cause they won't last long.  But we'll make more.  You're welcome.  
CAUTION:  While we do our best to remove all of the shell, this is a natural product and it is normal for some shell remnants or pieces to remain.  Please inspect before consumption.  
ALLERGEN STATEMENT:  Contains egg whites.  We only grow and process pecans so there will be no cross-nut contamination.  Please check with your doctor before consuming pecans if you are allergic to other tree nuts.
Delicious
Perfectly made and well-balanced; not overly sugary sweet.
Candied Pecans
These were great. Lasted about a week!
Bulk mail order a honey, roasted pecans
You can't just eat one or five or 15 at a time. You're lucky if you don't finish the whole bag. Delicious. I highly recommend for the grand opening of Russes market in Glenwood Iowa… That you set up a table to establish an audience… Great product!
Amazing Flavor!
This is not the first time I have bought this item! These candied pecans are very tasty! The pecans themselves have a very fresh flavor! Do yourself a favor and buy these and give yourself a delicious treat!
Sooo Good!
Had to semi hide them from ourselves so we wouldn't overdo!
We'll order more for Christmas.