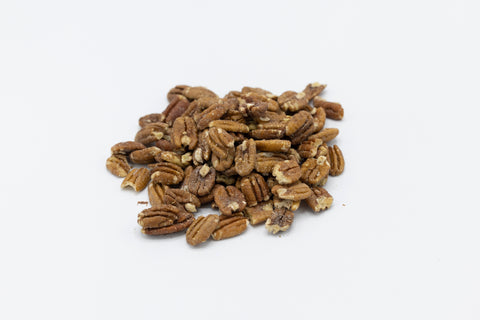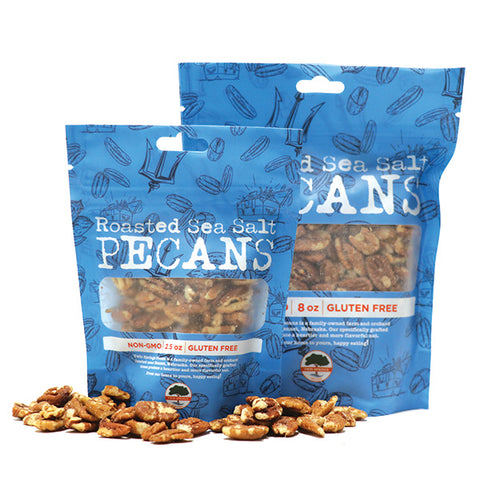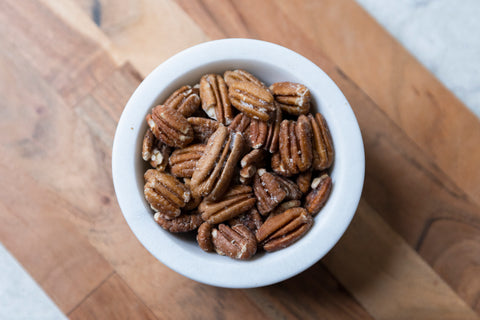 Twin Springs Pecans
Roasted Sea Salt
Traditional pecan halves roasted with premium sea salt.  The high (and heart healthy) pecan oil content makes them roast oh-so-wonderfully.  The perfect snack when you are craving salt, but want something a bit healthier!  
Available in 8 oz or 2.5 oz sizes with resealable packaging.  The 2.5 oz size is our smaller size perfect for a quick snack, school lunches, or for quick energy on your bike ride or hike.  Whichever size you choose, buy plenty, cause they won't last long.  But we'll make more.  You're welcome.  
CAUTION:  While we do our best to remove all of the shell, this is a natural product and it is normal for some shell remnants or pieces to remain.  Please inspect before consumption.  

ALLERGEN STATEMENT:  Contains butter.  We only grow and process pecans so there will be no cross-nut contamination.  Please check with your doctor before consuming pecans if you are allergic to other tree nuts.
when I tried the pecans at the farmers market this past summer I really enjoyed the flavor .
Tastee and toastee
These were pretty good, salted just right!
Fresh pecans
I love the salted pecans. Just the right amount of salt.