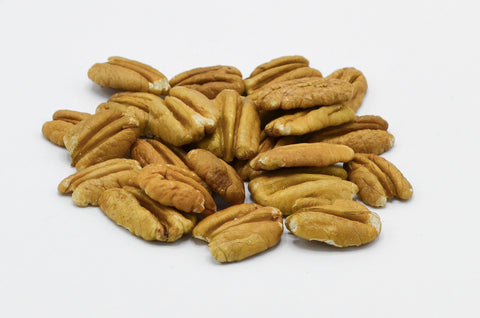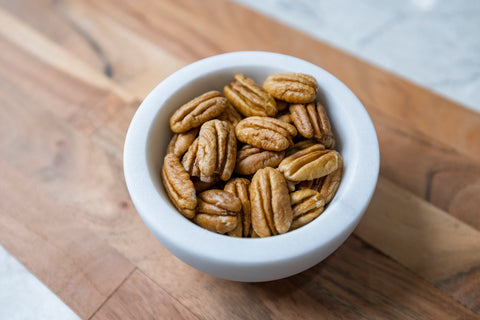 Twin Springs Pecans
Premium Pecan Halves
Naked Pecans, the way nature intended them to be eaten.  Jumbo halves without the shell.  With a high oil content, our pecans have a luscious buttery palate.  Don't worry, pecan oil is one of the healthy ones!  Your heart will thank us.  
CAUTION:  While we do our best to remove all of the shell, this is a natural product and it is normal for some shell remnants or pieces to remain.  Please inspect before consumption.  
ALLERGEN STATEMENT:  We only grow and process pecans so there will be no cross-nut contamination.  Please check with your doctor before consuming Pecans if you are allergic to other tree nuts.   
Not my favorite, no crunch or almost tasteless!
That's not what we like to hear! We take pride in the fact that our nuts are seasonally fresh. As the halves are raw and not roasted, they shouldn't be 'crunchy' per se, but they shouldn't be soft all the way through. We will send you out a new bag as we want to make sure your experience is based on preference and not a bad example. So sorry! Contact us at sarah@twinspringspecans.com when the new bag arrives and let us know if you have the same experience. Thank you for the feedback!
Pecan Halves-Graf Bees
Our customers noticed the difference in the first batch. They have been flying off the shelf. Great product and wonderful people.
Northern pecans are superb!
We lived in South Carolina for 12 years and learned to love their pecans. What a pleasant surprise to move back to Lincoln and discover Twin Springs delicious Northern pecans! Plus free delivery to Lincoln! Thank you Twin Springs for your
fabulous pecan products!
Delicious
These Pecans are amazing! We love using them in our coffeeshop.
Fabulous product - Fabulous service!
This may sound nutty, but your pecans are peachy-keen! We take some bags to our daughters who live in Canada. They also love the Smokin' Gun beef jerky that's here in Lincoln. Like us, they love the Twin Springs pecans.