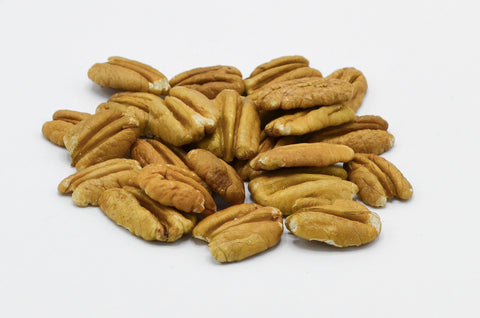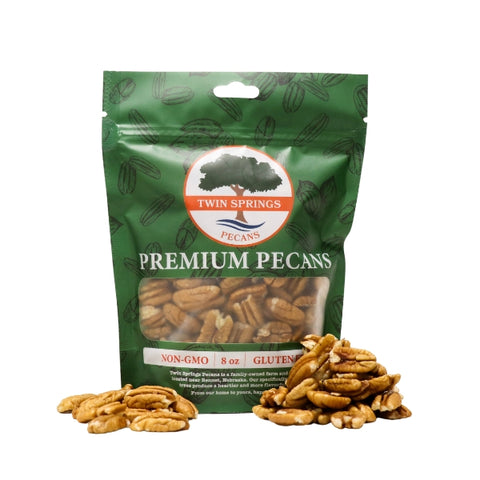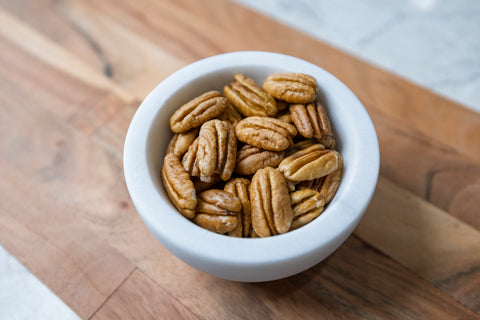 Twin Springs Pecans
Premium Pecan Halves
Naked Pecans, the way nature intended them to be eaten.  Jumbo halves without the shell.  With a high oil content, our pecans have a luscious buttery palate.  Don't worry, pecan oil is one of the healthy ones!  Your heart will thank us.  
CAUTION:  While we do our best to remove all of the shell, this is a natural product and it is normal for some shell remnants or pieces to remain.  Please inspect before consumption.  
ALLERGEN STATEMENT:  We only grow and process pecans so there will be no cross-nut contamination.  Please check with your doctor before consuming Pecans if you are allergic to other tree nuts.   
Freshest, Yummiest Pecans Around
OMGoodness, these are the best pecans. Great for baking and cooking, but best for just grabbing a handful and snacking!
Best Pecans!
I love the pecans from Twin Springs. From just a raw snack to coconut pecan horchata to roasting them with maple syrup and captain Morgan rum to top off baked goodies. Never disappointed and I highly recommend.
Roasted Sea Salt & Cracked Black Pepper pecans
I used the Roasted Sea Salt & Cracked Black Pepper pecans to make Nutty Green Beans. The flavor was perfect and no other seasonings were needed. I really loved the crunch the pecans brought to the dish. I can't wait to share this side dish with my family at Thanksgiving! I also highly appreciate the pecans are Gluten-free. You can count on us for more orders in the future!
Truly the best pecans I have ever eaten! Much better than any nuts that come out of Georgia or Texas. I wish you did walnuts. Almost all walnuts you buy in the store are rancid.
Amazing pecans!
Our family is a big fan of pecans and these are some of the best we've ever had! We ordered raw pecans to put them in recipes and just eat them fresh and they were delicious! We also tried Amanda's Amanda's Amazing Pecans and couldn't get enough of them! They are the perfect addition to a charcuterie board. So yummy!